Domestic Church – Family Branch of the Light – Life Movement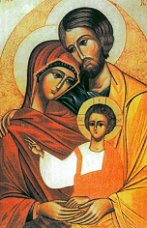 Kontakt: Halina and Mirosław Koryccy, 613 737 0205
The "Domestic Church" is the Family oriented branch of the "Light – Life Movement". Its aim is to create truly responsible Christian families through formation of the spouses – intensifying their understanding of the sacrament of matrimony – thereby creating optimal conditions for bringing up children in the spirit of Christianity. Family groups, called circles (each circle consists of few married couples) regularly meet together to study the Holy Bible, to share their everyday family life and to pray together. Moreover, each of the spouses strives everyday to strengthen their own faith and personal relationship with Jesus Christ.
The Domestic Church is a post – conciliar renewal movement in Catholic Church. It supports gathered families to realize the idea of a authentic Christian family. Its values are especially important here in the modern western world where fundamental values and Catholic faith are being torn apart by the secular counterculture.
Married couples and families who hunger for doing something more intentional about their faith, desire to intensify their love in marriage, seek fellowship of other Christian families, they will find support and joy in the Domestic Church circles.