Eucharistic Crusade (Eucharistic Youth Movement)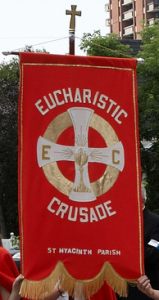 Contact: Magda Bronowska, 613 230 0804
All girls, who have received the First Holy Communion, are very welcome to take part in the Eucharistic Youth Movement (EYM).
The beginnings of the Eucharistic Crusade have their roots in France. During World War I, children from Bordeaux wanted to help their fighting fathers and brothers. Those children formed a group, which supported soldiers with prayers, spiritual sacrifice and small gifts, for example sweets, chocolate bars, money but mainly little cards with written prayers. Everyday the small notes were put in a special box at the foot of the statue of the Sacred Heart of Jesus Christ. New supportive youth groups were formed over time. There were more and more children who offered their suffering for victory and the revival of Christianity in France. However, formally the Eucharistic Crusade came to life because of the Eucharistic Congress in Lourdes. At the end of July 1914 this youth movement gained its organizational and legal framework.
Officially, the Eucharistic Crusade was founded by Jesuit Fr. Bessires on 13 November 1914, after Pope Benedict XV message to children asking for prayers for peace. The Pope approved the Eucharistic Crusade on 6 August 1922.
Sister Urszula Ledóchowska, who met the Eucharistic Crusade in France, introduced this movement in Poland. The first organization was set 1 January 1925 in a college for boys in Pniewy. Soon, thanks to the Ursuline Sisters, these youth groups became popular across Poland.
The name change
In 1960 the "Eucharistic Crusade" was renewed and – according to advice of the Pope John XXIII – changed the name to "Eucharistic Youth Movement". There was revival of whole organization. In 1985/86, due to the preparations for the Second National Eucharistic Congress in Poland, the Ursuline Sisters started using the new name.
From the Encyclopedia, Historia Kościoła na Śląsku